THE HIDDEN BENEFITS OF ALOE VERA
While a lot of people use aloe vera ignorantly, others do not use it at all. this is because they still haven't understood the hidden benefits of this greenish plant- aloe vera.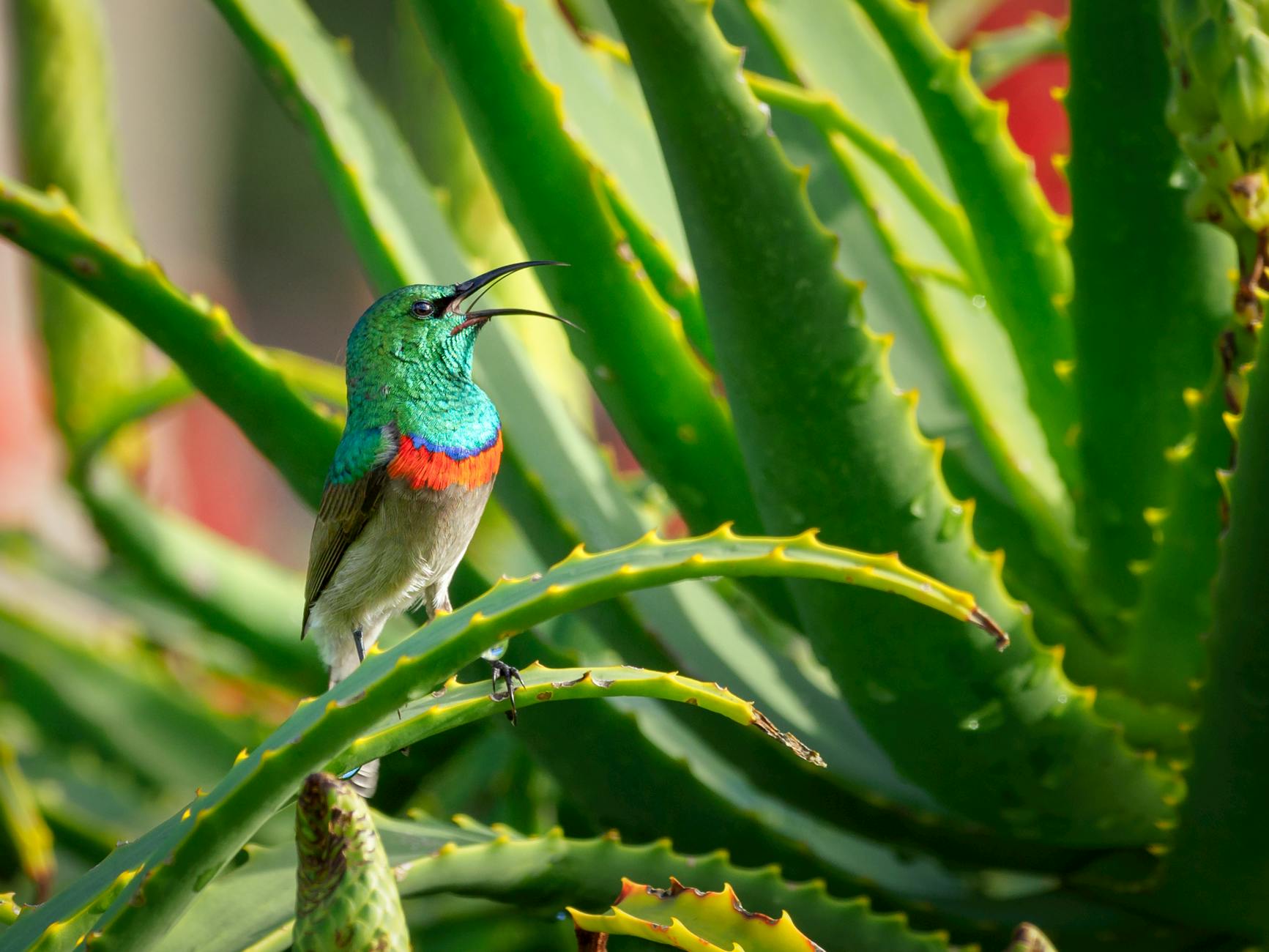 IMAGE OF A BIRD STANDING ON THE LEAF OF AN ALOE VERA PLANT
Aloe Vera Plant and some of its benefit you would want to know
Aloe Vera, is a greenish thick plant, with sharp edges, stores and can be very bitter when touched. It can be grown around the tropical, semi-tropical, and arid climates or places of the world. Aloe vera originates from Arabia but can be found in almost all over the world. Aloe vera is a medicinal plant used in treating health conditions for a long period of time now. The leaves of the aloe vera contain slimy tissues that store water and make it gets thick, this thick slimy water is known as the gel which contains most of the beneficial bioactive compounds in the plant, including vitamins, minerals, amino acids, and antioxidants.
Functions of the Aloe vera plant (gel).
It acts as an antioxidant which is very important for health. Aloe vera gel contains powerful antioxidants belonging to a large family of substances known as polyphenols. These polyphenols, along with several other compounds in aloe vera, help inhibit the growth of certain bacteria that can cause infections in humans.
Aloe vera is known for its antibacterial, antiviral, and antiseptic properties. This is one of the reasons why it may help heal wounds and treat skin problems.
Health Benefits of Aloe vera Plants
Aloe vera helps treat constipation.
The latex most especially and, not the gel is used to reduce constipation. The latex is a sticky yellow residue present just under the skin of the leaf. The key compound responsible for this effect is called aloin, or barbaloin, which has well-established laxative effects.
Gastroesophageal reflux disease (GERD) is a digestive disorder that often results in heartburn. It was suggested that consuming aloe gel at mealtime could reduce the severity of GERD. It may also ease other digestion-related problems. The plant's low toxicity makes it a safe and gentle remedy for heartburn.
Aloe vera can be used to keep your skin clear and hydrated. This may be because the plant thrives in dry, unstable climates. To survive the harsh conditions, the plant's leaves store water. These water-dense leaves, combined with special plant compounds called complex carbohydrates, make it an effective face moisturizer and pain reliever.
Helps reduce blood sugar level
Ingesting two tablespoons of aloe vera juice per day can cause blood sugar levels to fall in people with type 2 diabetes, according to studies. This could mean that aloe vera may have a future in diabetes treatment.
Natural teeth whitener and mouth wash
Aloe vera actually has been found to have all of the benefits of fluoride kinds of toothpaste but without harmful chemicals! A natural way to keep your teeth sparkling and clean and a way to keep your gums healthy are by using aloe vera gel.
Acts as a natural lubricant and increase sexual performance
Aloe Vera not only helps thousands of men significantly increase their sexual performance but also acts as a first-rate lubricant that absorbs easily and quickly. It is an ideal replacement for the toxic lubricants. Since it comes in the gel form, it is one of the best natural lubricants. Unlike other oils, it minimizes the risk of infections to your partner.
Aloe vera has the incredible ability to increase blood circulation. That's part of why its healing properties are so unique. When you use aloe vera on your hair and scalp, blood flow to your scalp increases. When your scalp has been cleansed and your hair has been conditioned with aloe vera, you might see that hair breakage and loss slows down.
Using fresh aloe on your face may help clear up acne. Acne products made with aloe may be less irritating to the skin than traditional acne treatments.
Can aloe vera be harmful to the body?
To an extend YES aloe vera can be harmful to the body. This means it all depends on the way we use our aloe vera. It could be ok for most people to use aloe vera topically for minor skincare concerns. Generally, it's well-tolerated, though skin irritations and allergic reactions are possible. Never use aloe vera on any severe cuts or burns.
Pay attention to how your body reacts to aloe. Pay attention to any burning sensations or adverse reactions. Avoid the use aloe if you're allergic to garlic, onions, or tulips. Avoid using aloe vera within two weeks of any scheduled surgery.
Pregnant women or breastfeeding mothers, and children under the age of 12, should avoid the oral use of aloe vera.
Much attention should be paid when taking aloe vera gel or latex internally. Usage should be limited to small periods of time. After a few weeks of use, take a break for at least one week. This is because the laxative effect of aloe vera latex has the potential to cause diarrhea and abdominal cramps. These effects could inhibit the absorption of oral drugs and reduce their effectiveness.
If you have the following conditions, it will be advisable you stay away from aloe vera
hemorrhoids
kidney conditions
renal disorder
cardiac condition
ulcerative colitis
intestinal obstruction
diabetes
Possible side effects of aloe vera include:
Kidney issues
Blood in the urine
Low potassium
Muscle weakness
Diarrhea
Nausea or stomach pain
Electrolyte imbalances
Always contact your doctor before using aloe vera if you are also taking the following medications, because aloe vera may interact with them:
Water pills(diuretics)
Herbs and supplements
Corticosteroids
Digoxin (Lanoxin)
Warfarin (Coumadin, Jantoven)
Sevoflurane (Ultane)
Stimulant laxatives
Diabetes medications