3 MEMORABLE TIMES PATRICK MBOMA MADE CAMEROONIANS PROUD
Patrick Mboma is one of the greatest strikers in African football history. His mesmerizing dribbling ...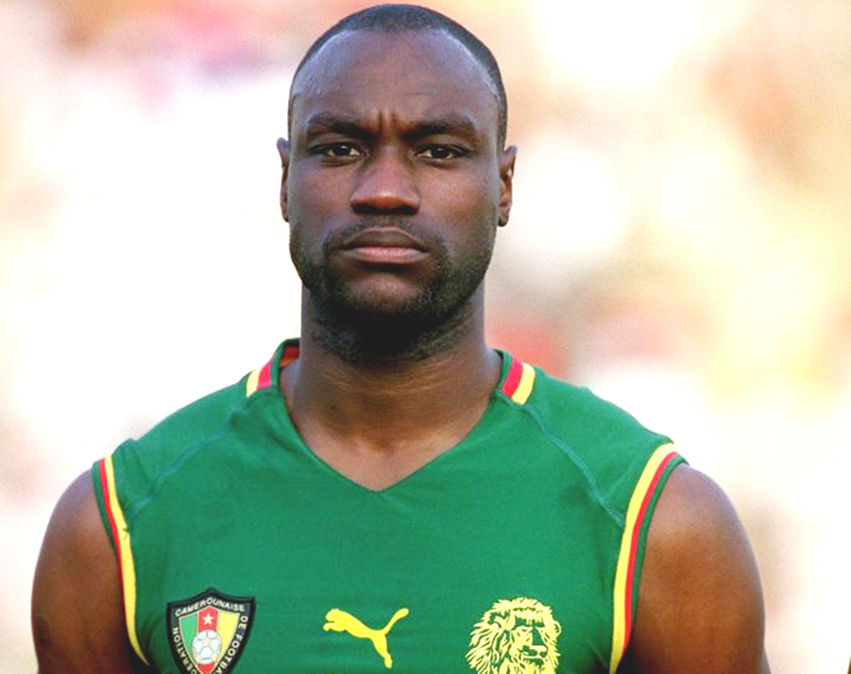 Patrick Mboma is one of the greatest strikers in African football history. His mesmerizing dribbling skills, powerful left-footed kicks, imposing physique and stellar heading techniques were his forte that made him stand out from other African attackers of his time.
Between 1995 and 2004, Patrick
Mboma Ndem's impact was staggering. He played 57 matches for Cameroon, scoring 33 goals.
Patrick "Magic" MBOMA played in two World Cups 1998 and 2002.
1. Friendly against France (2000):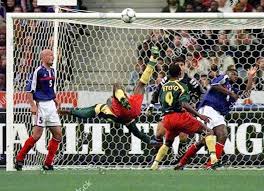 On October 4th, 2000 at Stade de France, Patrick Mboma scored one of the most memorable goals in the history of the Indomitable Lions.
Cameroon was trailing by one goal after Wiltord opened scores in the 19th minute.
In the 44th minute, Patrick Mboma popped up with an overhead bicycle kick from a Pierre Wome throw, to restore parity. France Goalkeeper Lionel Letizi was in complete awe.
2. EXPLOITS AT AFCON 2000:
Patrick Mboma was at the frontline of Cameroon's awe-inspiring performance at the Africa Cup of Nations in Nigeria.
After Samuel Eto'o scored in the 26th minute, Mboma capitalized on a through pass from Samuel Eto'o. He struck a powerful shot, nutmegging Nigerian goalkeeper, Ike Shorunmu. Nigeria later equalized.
Cameroon finally beat hosts Nigeria 4-3 on penalty shootout after the 2-2 draw in normal time.
He was named African Player of the Year.
3. 2000 OLYMPIC GAMES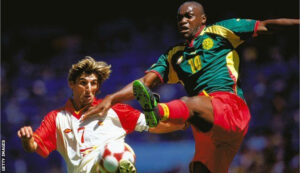 Patrick Mboma led the attack for Cameroon in the Men's Olympic Football Tournament at Sydney 2000, making a decisive contribution to Cameroon's heroic gold medal win.
Lodged in Group C, Cameroon kicked off by downing Kuwait 3-2, with Mboma scoring a 76th-minute winner.
He scored again in the 1-1 draw, against the USA.
In the quarter finals, Mboma gave Cameroon the lead against Brazil. Ronaldinho grabbed a late equaliser for the match to go into extra-time.
Cameroonians hit back through a solid shot from Modeste Mbami to record a shock 2-1 win.
In the semi-final against Chile, Cameroon was trailing 1-0 with just six minutes remaining to the end of the game.
Cameroonian talismanic striker Patrick Mboma equalized. In the dying seconds, Mboma won a penalty which was converted by Lauren Etame Mayer.
In the finals against Spain, Cameroon was down by 2-0 down at half-time. In the second half, Mboma's thunderbolt shot was deflected off Spanish defender Ivan Amaya's face and the ball was in the back of the net
Indefatigable, Mboma supplied a cross for Samuel Eto'o for an exceptional finish. It was 2-2.
Extra-time was goalless. Cameroon went on to win 5-3 during penalty shootout.
Talking to BBC, Mboma expressed his patriotism:
"Probably the most important moment of my career came when we sang the national anthem. I was so proud – it wasn't singing the words, it was crying – because the first ever Olympic medal for Cameroon was gold".
Mboma also help Cameroon to win the 2002 Africa Cup of Nations, scoring 3 goals.